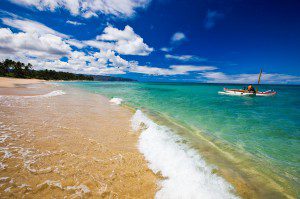 The citizens of Hawaii are famous for their hospitality, as they truly enjoy showing off their islands. The crispness of the fresh fragrant air is rejuvenating and is one of first things that visitors notice when they arrive in Hawaii. When it comes to places to get away from it all, the breathtaking beauty of the islands, along with the romantic beaches, warm, tranquil waters, and convenient access from the mainland, makes it easy to understand why no other place on earth can compare to Hawaii.

Hawaii Island
Hawaii Island is the youngest but largest island and chocked full of many unsurpassed natural wonders including the world's most active volcanoes and the tallest sea mountain. The climate of the island ranges from flourishing rain forests to volcanic deserts. The majestic snow-capped mountains and gorgeous black sandy beaches are simply spectacular. Without a doubt, the biggest island of Hawaii has a little bit of everything.
Kauai
It's no surprise that Kauai is one of Hawaii's most popular honeymoon destinations.  Peaceful and unspoiled, yet filled with adventure; Kauai is less developed than the other Hawaiian Islands. It is full of natural garden beauty, awe-inspiring waterfalls, scenic back roads, and more than 60 incredible beaches. Kauai offers countless areas for the best snorkeling and water sports. It boasts deep canyons, majestic cliffs and explorative trails that are ideal for hiking, such as the Na Pali Coast. Kauai is definitely the island for those who enjoy the outdoors and are looking forward to a romantic getaway.
Maui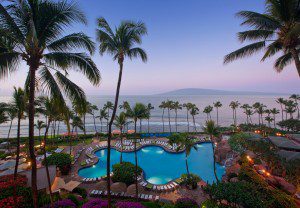 Voted "Best Island" for many years by the readers of Conde Nast Traveler, Maui is the island for individuals who like to spend their vacation sightseeing. Enjoy the beauty of an awesome sunset while walking on an exquisite beach in Kaanapali or amble along the seaside streets as the sun rises in the city of Lahaina. Maui is filled with plenty to explore outdoors, including art and culture.  It offers its visitors the best of modern luxury with rugged outdoor pursuits.

Oahu 
The mother island of Hawaii would without a doubt have to be Oahu. The island presents ageless splendor combined with the extravagances of today's world and is bustling with activity during daytime hours.  The romantic nightlife of Honolulu is equally exciting. Oahu has something for everyone, plus it is long-known to be a favorite for the surfers of the world.
Lanai
Lanai offers an intimate beach setting with two of the top hotels in the world. Its absence of crowds proposes private and tranquil places to vacation with exclusive and luxurious pampering. This island has tucked away romantic escapes from the hustle and bustle of everyday life. It offers the relaxation of high-end spas and has two excellent golf courses that are favored by many of the Hawaiian golfers. The island with the sacred "Sweetheart Rock" – Lanai is Hawaii's most alluring island for couples looking for VIP treatment.