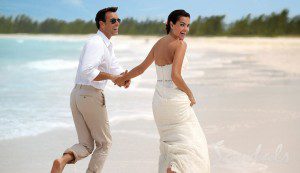 Destination weddings are a growing trend that give couples the opportunity to exchange vows in their dream location.  Whether you choose to gather at a historic garden inn or travel to an exotic beach in Fiji, a destination wedding offers many benefits to help create the most memorable and joyful experience for everyone. It's no wonder that destination weddings have grown 400% in popularity over the past ten years.
*  A destination wedding is more affordable.  A traditional wedding costs an average of $24,000, while you could fly to an all-inclusive resort, have your wedding ceremony, and enjoy a week-long honeymoon for a quarter of the cost.  Payment plans are also available for you and your guests, which is helpful in creating an affordable experience for everyone.
*  There's value in group travel.  By booking a destination wedding package, you and your guests will benefit from significant savings and added incentives.   For example, many all-inclusive resorts offer free wedding ceremonies, complimentary upgrades, and extra amenities, such as spa credits, for you and your fiancé.  Not only will you benefit from a more cost-effective wedding and honeymoon, but your guests will enjoy discounted room rates as well that they normally wouldn't receive on their family vacation.
*  Turn a road trip into a vacation.  Since more and more couples have friends and family from different parts of the country, you'll likely have guests traveling from afar to celebrate with you.  Instead of inviting them to your hometown, why not give them the opportunity to venture to your favorite destination for a memorable vacation instead?
*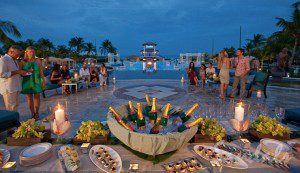 Spend more quality time with those you love.  When those nearest and dearest to you attend your wedding, it's difficult to have enough time to spend with them.  A destination wedding provides you with relaxing days to unwind and enjoy time with those you love.  For those who aren't able to join you, holding a post-wedding reception in your hometown gives you the chance to catch up with family and friends at a time that's not quite as hectic as your wedding day.
*  Simplify.  Planning a destination wedding can be very easy compared to planning a traditional wedding.  Going Your Way Travel works with wedding coordinators on location to take care of every detail for you.  We also serve as your point of contact for vendors and guests, so you're not overwhelmed with questions.  You won't have any last minute running around, and you can choose to be as involved or removed as you like.  Planning should begin 10-15 months in advance to ensure the best options and early savings are available.
*  Express yourself.   Unlike a traditional wedding, a destination wedding helps you let go of the expected norms and be as simple or extravagant as you'd like.  You don't have to worry about sticking to tradition but can create a wedding that is as unique as you are.  Underwater wedding anyone?
*  A destination wedding can be customized to fit each guest's budget.  Your guests can take advantage of this special opportunity to enjoy a long vacation in the most deluxe suite, or they can choose a more cost-efficient package and shorten their stay.  Your destination wedding can be tailored to your guests' needs and desires as well.