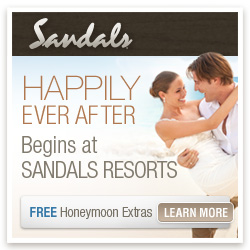 Congratulations on your engagement!  Your honeymoon is an exciting event that marks the beginning of your new life together as one.  To create the most romantic escape that you can remember fondly throughout the years is not a matter of chance, but requires careful planning that may seem overwhelming at first glance.  Going Your Way works with you to simplify your planning process by following the easy steps below.
1)  The Sooner, the Better:  We recommend arranging your honeymoon reservations as soon as possible, so you have the best opportunity to find the perfect destination, property, and room of your choice, in addition to the best price.  Many destinations begin to fill up within 3 to 6 months of your travel dates, so the sooner you begin your travel planning the better.  Going Your Way is available anytime day or night to help you take the first step toward your dream getaway.
2)  Decide on a Budget:  Since honeymoons vary in length and luxury, there is no set cost.  It is important, though, to decide whether quantity or quality is more important to you as a couple for this once-in-a-lifetime getaway.  You could shorten your honeymoon in order to enjoy the luxury suite of your  dreams, or you could choose to spend your time in a less than glamorous hotel, if it means having a longer honeymoon.  Payment plans may be available, and Going Your Way offers a free honeymoon registry that gives your wedding guests the opportunity to contribute to items you would like to enjoy on your honeymoon, such as an upgraded room or spa treatments, which will put your ideal honeymoon more within reach.
3)  Consider Your Tastes:  Think about your travel style, and consider which tastes you and your fiancé share.   Do you like to explore the road less traveled or stick to the main attractions?  Would you rather be pampered in a serene environment or enjoy a plethora of activities, such as hiking and live entertainment?  Do you prefer a beach getaway, a mountain retreat, or a cruise?  By asking an array of questions, Going Your Way will ensure that you arrive at the destination that is best suited to your unique vision for your honeymoon.
4) Choose a Destination.  There is a bevy of romantic destinations from which to choose, from the rolling vineyards of Napa to the exotic villas of Thailand.  Take some  time to decide whether you plan to enjoy your honeymoon domestically or venture overseas.  The time of year you plan to travel is also an important  factor in where you go, since you'd probably like to avoid hurricanes and rainy seasons.  Going Your Way provides information about the locations with the best weather for your honeymoon.  If you choose an international destination, Going Your Way can work with you to make sure you have any necessary visas and provide assistance with obtaining a passport that's valid for at least 6 months after your return date .
5) Choose Your Property:  No matter how wonderful a destination may seem, where you stay will make all the difference in your experience.   Going Your Way has up to date information about the most recommended and highly reviewed properties and will recommend destinations and resorts that are tailored to your unique combination of interests and personalities .
6) Complete Your Reservations:  With Going Your Way completing your reservations for your honeymoon package, you'll pay no more than you would booking on your own.  Going Your Way will also reconfirm your reservations for accuracy and negotiate an extra amenity or welcome gift, compliments of our agency.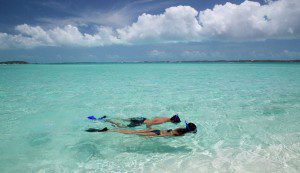 7)  Reserve Excursions and Activities in Advance:  Going Your Way will work with you to coordinate all the special details that will make your romantic experience even more memorable.  Private airport transfers, spa treatments, dinner reservations, tours, and excursions may be reserved anytime before you depart.  By arranging these extras in advance, you'll not only have a better opportunity of receiving the day and time of your choice, but you'll also ensure a honeymoon to remember.
8)  Purchase Travel Insurance:  Going Your Way recommends purchasing travel insurance for your honeymoon package.  Although we don't want anything to interfere with this special occasion, unexpected events, such as weather and mechanical delays, do occur unfortunately.  To help ease the burden of these unforeseen circumstances, travel insurance is available to cover expenses for luggage delays, illness, delayed flights, as well as other valuable benefits.  Going Your Way is available to recommend policies which fit your travel needs most closely and is more than happy to answer questions and clarify the fine print.
9)  Pack:  Packing for such a unique trip requires a little extra forethought.  Items such as bug spray, sunscreen, and umbrellas may either be expensive or not readily available at your destination, so consider bringing along specialty items such as these.  Also consider variations in day and night temperatures at your destination, as a light jacket may be necessary for cool evenings.  It's a good idea to bring a copy of your marriage license along to provide proof that you're on your honeymoon.  Going Your Way is able to help you determine which items should be packed and which ones are better left at home.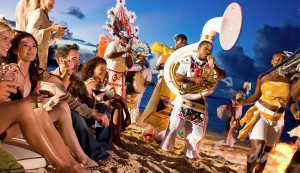 10) Relax and Enjoy Your Honeymoon:  After the joy of your wedding day, it is time to settle your mind and think only of the memories to be made on your honeymoon with your loved one as you start your new life together.  Rest assured that Going Your Way is working behind the scenes to make sure that all your requests are fulfilled and that your overall experience is just as you wish.