Now that I have experienced firsthand all that Sandals has to offer, I am already planning my next getaway to one of their island destinations.  Sandals Resorts include 13 all-inclusive properties in Jamaica, Antigua, St. Lucia, and Bahamas, each offering a unique, couples-only escape.  This past December, I spent three whirlwind days visiting Sandals Emerald Bay Resort,  Sandals Grande Antigua Resort, and Sandals Royal Bahamian Resort.   From the moment I was greeted with a bubbly glass of champagne or Bahama Mama, I felt pampered in paradise.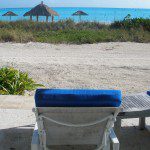 My first stop was Sandals Emerald Bay in Georgetown, Bahamas.  The staff here includes some of the friendliest people I have ever met.  This is the newest Sandals Resorts, opening in January 2010.  It is just 15 minutes from the airport, but is a secluded retreat on a small, quiet island.  It has a refined atmosphere and offers picturesque views of the Emerald waters over its sprawling green lawns.  It features some of the best beachfront rooms.  You can literally step from your patio into the soft, white sand.  This property also has the largest spa of all Sandals Resorts and is a golfer's haven, boasting a championship Greg Norman designed course with breathtaking views.  In addition, you're welcome to dock your yacht at the nearby marina.
Before I knew it, I was boarding the plane again and heading for the gorgeous island of Antigua.  Sandals Grande Antigua is just a short drive from the airport.   In no time, I was floating in the moonlit Caribbean with a Mojito in hand.  This property features two distinct resorts in one.  The traditional Caribbean Grove is inviting with lush gardens, intimate pools, and unique Rondoval suites with private courtyards and plunge pools.   The newly constructed Mediterranean Village features a 7-story building with oceanview suites as well as luxurious villas with whirlpool tubs.  With such a diverse landscape, 10 restaurants, 5 pools and whirlpools, and a beautiful beach, you are sure to find just the right spot to suit your mood and never tire of the same view everyday.  What makes this resort even better is that the island of Antigua is one of the safest and cleanest in the Caribbean.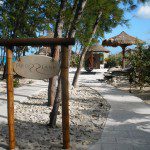 The following day, it was time to head back to the Bahamas.  Sandals Royal Bahamian is located on Cable Beach near Nassau and is one of the most popular Sandals destinations.  It used to be a vacation home of the Duke and Duchess of Windsor and is considered the most elegant of the Sandals Resorts.  Rolls Royce airport transfer, anyone?   I was especially impressed with the resort's own offshore island with pool & swim-up bar, Café Goombay, and tranquil beaches.  Meandering along the island's path past cozy hammocks and chaise lounges, I came upon the Red Lane Spa.  Imagine getting a massage in a private straw hut while listening to ocean waves and breeze in the trees.  Needless to say, I was not ready to come home, but it was a perfect getaway to feel refreshed and rejuvenated.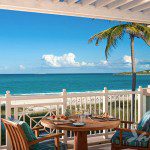 For couples looking for the ultimate romantic honeymoon, anniversary vacation, or destination wedding, Sandals Resorts do not disappoint.  As founder Butch Stewart puts it, "If couples don't arrive in love, they will leave in love."  Some of Sandals' "Luxury Included " benefits include:
*  A hassle free vacation – Everything from your airport transfer to the endless tasty treats and drinks is already included in your package price.  You do not even have to think about tipping, because gratuities are already included.  The only extras you may need to purchase are spa treatments, WiFi access, and excursions.
*  Room options that offer exclusive Concierge or personal Butler service.
*  Unlimited green fees for golf lovers (except Sandals Emerald Bay; mandatory caddy and optional cart fees are additional)
*  Unlimited scuba diving and snorkeling trips.
*  Sandals Grande St. Lucian is the only resort in the Caribbean to be building over-water suites, such as you would find in Tahiti (scheduled to open 2013).  These unique suites include see-through glass floors, over-the-water hammocks, outdoor showers, lights in the surrounding water, and a personal butler.
Call Going Your Way Travel to discover your next dream vacation!